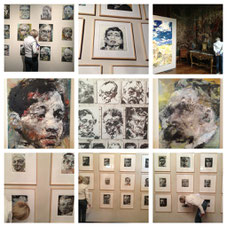 Sam Dillemans exhibits his newest paintings "Authors" in Gaasbeek Castle. Impressive portraits of Dillemans's heroes, a.o. the French and Russian 19th century writers, ancient and 20th century philosophers and great painters. Three hunderd paintings, a huge collection, the fruits of 3 years of sweat and courage, and at the same time the works drown in the huge and beautiful castle. The castle has so many things to offer that the visitor jumps from left to right, it's impossible to focus.
It's a pity. The castle deserves full attention and so does Dillemans. 2 seperate visits would be great; show Dillemans' "Authors" in a seperate location even better.
His works are so overwhelming, the technique inspiring and painting over old secondhand canvas gives an extra (humorous) accent.
MD.