This afternoon I visited the exhibition "Nervous Women" at the Museum Dr. Guislain (Gent). An expo I can only recommend.
The museum always succeeds in combining the core mission of their founder Dr. Jozef Guislain, pioneer in psychiatry, with interesting works of art that illustrate the medical hypothesis.
The thesis: "For centuries, women have been considered more 'nervous' than men, more susceptible to instability and mental illness, more often bothered by spirits and demons. But are they really more 'mentally ill'?"
Of course not! But in previous centuries, men dominated society and the medical world. 
I certainly appreciated on this "Women's Day" the works of, among others, Anne-Mie Van Kerckhoven, Louise Bourgeois, Lili Dujourie, Tracey Emin, Berlinde De Bruyckere and of course Yayoi Kusama. Her polkadot pumpkin dominated the room.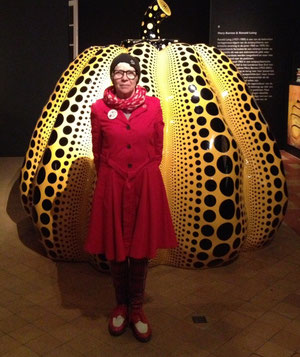 Unfortunately, also Marc Jacobs met Kusama and he 'convinced' the 83 year old Japanese artist to work together with him, i.e. Louis Vuitton. Act of appreciation or abuse?
The art certainly inspired the prices. Crazy world?