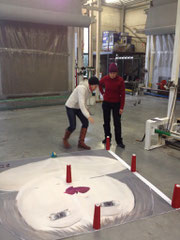 Tomorrow I have a new meeting with my "hand tufting-partner" Ora Pro Nobis. After a first successful realisation, we are setting up a new project.
I really need to make some speed, since I'm dreaming of an exposition of my "Colour Full People of the Loom" in 2013/2014. 
Be sure, it will be more than weaving and tufting...
MD.